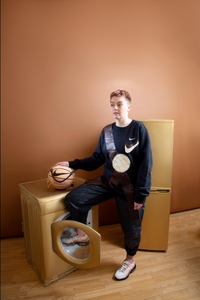 TASLIMA K x T O M M E EXCLUSIVE COLLABORATION
Change Makeair Reworked Nike Black Sweatshirt 6 Large
This collaboration is all about how we can promote sustainable positive fashion movement, zero waste, with the use of up-cycling old stock and vintage Nike garments and using off-cuts from the T O M M E handbags. 
Inspired by Taslima's collaboration with Nike on Air Max 95 Change Makeair. The message behind the collection is about celebrating our multicultural communities, our local change makers who make a difference without recognition, and most importantly being comfortable in our own skin.
PLEASE NOTE: EACH SWEATSHIRT IS A ONE-OFF BESPOKE PIECE. WE CAN OFFER A DIFFERENT SIZE ON REQUEST, BUT PLEASE NOTE THE DESIGN MAY NOT BE EXACTLY REPLICATED. AS WE USE LEATHER OFF-CUTS AND VINTAGE BASKETBALL JERSEY BASED ON AVAILABILITY. ALL MADE TO ORDER PIECES MAY TAKE UP TO 3 WEEKS.
• Designed and Handmade by TASLIMA K, 100% Leather off-cuts from T O M M E Basketball bags, zero waste.
• We are using dead stock from Nike sweatshirts, Vintage basketball jerseys, up-cycling and reworking with Leather off-cuts.
• Must be washed by professional leather cleaners
• Material: Sweatshirt material, Leather
• A classic embroidered logo on the left of the chest
• Ribbing around the hem and cuffs ensures a secure fit.
• Standard fit for a relaxed, easy feel
• Fabric: 80–82% cotton/18–20% polyester
• Material: Sweatshirt material, Leather
 ALL DELIVERY POSTED BY SPECIAL DELIVERY
This item is non-refundable due to limited edition one-off piece and made to order with unique limited number.
EMAIL FOR REQUEST ON SIZE- info.taslimak@gmail.com